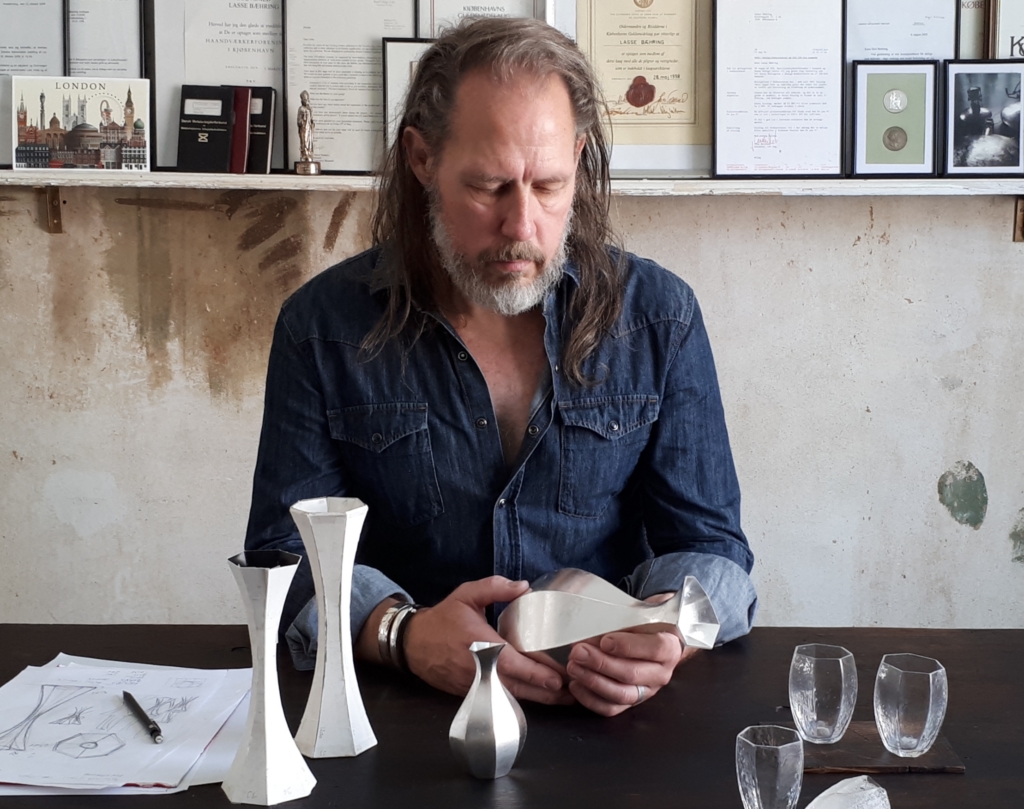 Lasse Bæhring
Designer Silversmith, Artist and Craftsman , Teacher and Lecturer, Organizer and Consultant.
First and foremost I am an Artist, Craftsman and Designer Silversmith in the renowned Danish silver hollowware tradition. That's what I trained for and have honed, and it's what I love. I create unique sculptural objects and silver hollowware in the highest quality. The artistry and the craftsmanship must always be in top quality. This is essential to transfer the totality of my artistic vision and to promote the inherent qualities of artistic silver hollowware and objects. All my other activitys derive from this center of quality Silversmithing but are absolutely not limited to it.
I was original trained as a Silversmith at the world famous Georg Jensen Silversmithy in Copenhagen, Denmark. I worked for the company for all in all 10 years. I was executing the designs of Henning Koppel, Sigvard Bernadotte and Georg Jensen himself. Through the years I was also the workshop manager assistant and responsible for training of the silversmith apprentices. In 1991 I established my own workshop where I was working in the evening and weekends creating and crafting my own designs for exhibitions and competitions.
Independence . When I in 1993 was awarded The Hetsch Medal for the first time I terminated my employment at The Georg Jensen Silversmithy and has since been running my own company Bæhring. I won my second Hetsch medal in 1997. Ever since I've been creating high quality Silver art for exhibitions and competitions and doing commission work, bespoke and maintenance of, among others, Royal and Historic collection Silver in Denmark and abroad.
My own pieces have been extensively exhibited in Denmark and internationally. Winning numerous awards, distinctions and grants. Most pieces have been acquired for National and Royal Collections.
From the commissioned pieces that I've crafted for other artists many have also been exhibited and won awards and distinctions in the artist name. Underlining that the effort put into crafting these pieces in others design is exactly the same high quality as in my own creations.
Inspiration . Nature is a great inspiration to me. I was born in Copenhagen but grew up in the green areas surrounding the city. From that upbringing I have the totally logical and instinctive relation to nature that a nature talent needs to have. I am fascinated by nature's way to solve complicated problems in seemly simple solutions. I now live and work in the centre of Copenhagen but I still draw my inspiration from the logic of nature. It gives me a unique position to draw inspiration from the best of both worlds. I get to enjoy the culture and the energy from the city and the tranquillity of the woods and the ocean surrounding it.
To me there is no greater inspiration than from nature itself and it seems that everything I do somehow turns out to be flowers. Small or great – open or closed – Organic or straight. It's always flowers. Often a kind of human made flowers that could grow in the city. And that is who I am. A city-boy that is very comfortably drawn to nature.
Work ethics . I have an instinctive approach to my work. My greatest ambition is that the art has to flow freely from the pen. The introductory sketches have to be a subconscious process. The more subconscious – the better. It is very important to keep this process from rational thought. The rationality will be very overpowering in the crafting process of the pieces. Silversmithing are a very technical discipline and it is always a challenge to keep the lively core of the artistic process present in the finished result. To promote and strengthen the artistic elements I find extremely interesting and the challenge of my life.
It means that I spend a lot of time researching and (subconscious) sketching the individual ideas that will turn out in single pieces or series of hollowware.
Choise of materials . I work in many different materials. For the time being I work a lot in wood, copper and steel. But my absolute favourite is of course silver. Silver is the most beautiful material for my art and the aesthetic that I search for. Georg Jensen once said that Silver had the beautiful glow of Scandinavian moonlight. I think he was right and that the tranquillity in the glow is a big part of the silver quality and why it fits so well into the Danish design tradition. Silver does have a special glow and it is my privilege to enjoy my work with it.
Anything is possible . Even though I mainly work in Silver my designs are not exclusively for this material. The ideas are often just as well executed in other materials and it is only a question of establishing the contact between the producers and me. Anything is possible.